Angel Shark
Introduction
Angel sharks have been in our oceans for thousands of years but sadly they are now disapearing faster than ever so far there are only 15 speices known and studied by man. Its scientific name is Squatina and like other sharks it is a fish.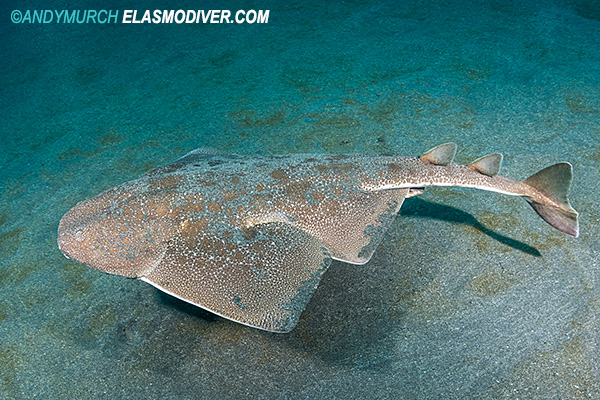 This photo is from www.elasmodiver.com with credit to AndyMurch.

The angel shark has a big, horizontal fin mainly used for balancing, slowing down and landing.Its size is about 8 ft weighing around 35 kg. It lives for between 25-35 years. Its colour varies between grey - reddish/greenish brown with spots scattered around. It has net-like marks with dark patches, It roams in the Pacific ocean.
Leopard Seal
Introduction
The leopard seal is just anouther rare ocean animal but sadly it is disappearing faster than ever. Its scientific name is the  Hydrurga Leptonyx and it is a mammal.

This photo is from a-z animals with credit to cyfer13.
It has grey/black spotted fur and lives in the cold waters of the south, its main prey is penguin, fish and squid although it prefers penguin, and it's got to watch out from sharks and killer whales! It is the second biggest seal in the world, it is 2.4-3.2m in length and weighs 200-591kg! They live together in herds and survive for 20 – 26 years. The average top speed is about 29km per hour.
Dugong
Introduction
Like the other items on this list, the dugong is another rare animal, it is also in danger of extinction and we are running out of time to save it. Its scientific name is the Dugong Dugon and it is a mammal.
This photo is from a-z animals with credit to Alberto Scarani.
It has a grey/brown leather skin, a large body and a forked tail. It lives in Warmer tropical waters and sea grass forests and lives on Sea Grass, Algae and Flowers. And as you see, it is a herbivore (which means it eats plants), its predators are Humans, Sharks and Crocodile. It lives for 50 - 70 years, is 2.7m - 3m in length and weighs 150kg - 400kg.It is related to the manatee.
European Spider Crab
Introduction
The spider crab is a rare crab and it is also running out quickly like the other animals on the list. Its Scientific name is the Maja squinado.
This photo has credit to fence.apapun.site.
It has a circular body usually light orange to brown but is red in the mating seasons and is covered in bumps with small spines along the edge, its legs are slightly darker and are very long with two joints on them at although the claws are very small. It lives in Europe and it feeds on plants and other small animals, with octopuses and big fish as its predators. It lives for 5-8 years and can grow up to 20cm.
Giant Otter
Introduction
The giant otter is a rare species of otter and is also in danger of running out like all the other animals here. Its scientific name is the Pteronura brasiliensis.
This photo has credit to www.sciencenews.org.
They have a long body with a powerful tail, short legs and webbed feet, they have soft chocolate brown fur and white patches on their long neck. They are only found in south America and eats mostly fish, and has few predators although some of them are: Jaguars, large Caimans and large Anacondas. Their lifespan is about 8 years although they can live for a bit more or less. They weigh about 34 kg and its size is up to 2 metres.
Bluntnose Sixgill Shark
Introduction
The sixgill shark is also a rare animal like the rest on the list. It is mainly a deep water animal hardly found in waters less than 100m. Its scientific name is the Hexanchus griseus.
This photo has credit to sharetv.com.
Also known as the cow shark, the bluntnose sixgill shark is one of the largest sharks in the world, it has six gill slits on each side of their head, yellow, comb like teeth and a long tail, its skin varies from greyish-brown to black. It is found in tropical seas around the world and has a large diet that includes, other sharks, large, bony fish, and  invertebrates. It is also known to scavenge on dead animals like seals and whales, has no predators and lives for about 80 years. Males weigh about 200kg and are 3m in length, females, (slightly larger than males) weigh 400kg and are roughly 4m in length.
Brazos River Water Snake
Introduction
The Brazos water snake is another rare animal although it may not be as rare as the other animals on the list. Most water snakes are harmless, despite human fears, and the Brazos water snake is one of them. Its scientific name is the Nerodia harteri.
 This photo has credit to Flickr.com.
The Brazos water snake, also known as the Harter's water snake or Brazos water snake for short, has a slender body, usually the brown to olive green in colour. With two rows of spots down both sides of its back. Roaming the USA, it inhabits fast-flowing streams with rocks close to the edge, where it hunts for small fish. It is not a very big snake, reaching about 16-32 inches in length.